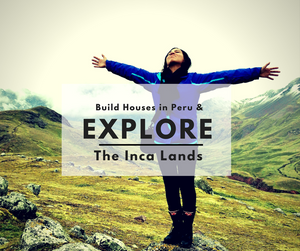 PERU PROJECT 2018 (Full Price)
Regular price
Sale price
$1,731.00
Tax included.
---
Peru Project 2018 - Build Houses & Explore the Inca Lands
Program Dates: May 18 to May 27
Cost: USD $1800  (CAN $2,288.39)
Reserve spot by DECEMBER 15, 2017: USD $900 (CAN $
1,144.30
)
Full Price should be paid by Jan 31, 2017
Make an impact in someone's life and build a house for a family in Peru
- Volunteer and live with a Peruvian family 
- Help building a house for a family in need
- Discover Lima South and try sand boarding or dune bugging
- Immerse yourself in The Sacred Valley (Pisac, Maras & Moray)
- Hike up to 4200 meters above sea level and enjoy the view of Huamantay lake
- Go on an Expedition to The lnca trail (one day hiking)
- Explore Machuppicchu (with the option of Hike Huaynapicchu) 
- Breakfast, Lunch during your stay
- Transfers to cities and airports (private transportation, taxis, etc)
- Airplane Tickets to Peru
- Airplane Tickets to Cusco
- Extra chargers for private rooms
How can you contribute besides building houses?
- Be part of our fundraising to get the money to build houses
- Organize your own fundraising (every little help is appreciate it)
-  Be prepare for long walks and hikes
- You may experience altitude sickness buy it doesn't last if you follow the recommendations
-  Wi-Fi will no be available all the time
- In some parts of the trip water may be restricted for some hours and we may experience power shortage 
- Volunteers can raise money to cover their airplane tickets and cover the first 2 days of their stay
- Cancellations may be accepted only by November 15, 2017 and fees may be applied
- After November 15, 2017 only half of the full price can be refunded. Please understand the tickets to Sacred Valley, Inca Trail, and other tours need to be purchased with months in advance due to limitations of people that can visit the sanctuaries per day.